One of my colig complaint his Open Office Calc Worksheet tab went missing. I'm not sure how he manage to hide the worksheet tab. But after some reading at Open Office forum, i found the solution to show the Calc Worksheet tab again.
This is how it looks when Worksheet tab is missing:-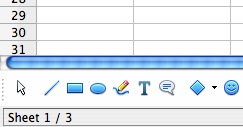 This is the normal view with worksheet tab visible:-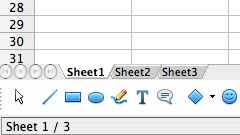 If your Open Office Calc Worksheet Tab went missing, follow the steps below to enable it:-
Open a file in Open Office Calc
Window: Click on Tools -> Options -> OpenOffice.org Calc -> View
Mac: Preferences -> OpenOffice.org Calc -> View

Tick the "Sheet Tabs" and click "OK" button
Now you should see your Worksheet Tab in your Open Office Calc.
---
Share this with your friends:-