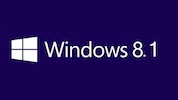 By default Win 8 come with few favorites links in the Window File Explorer but i don't use most of them. And i prefer to create my own favorite links so i can access all my working files and folder faster and easier. If you have friends or family members that is not so IT savvy, this favorites links is very useful for them.
To add folder shortcut under Favourite Links in Window File Explorer in Win 8, follow the steps below:-
Open your Window File Explorer
Navigate to your working folder
Now Right click on the "Favorites" and select "Add current location to Favourites"

And you should see a new folder added under the "Favorites" now
Happy Monday!
---
Share this with your friends:-