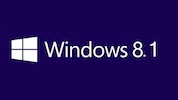 Recently i just installed Window 8.1 at one of my old desktop. When i'm trying to connect my desktop using remote desktop connection thru my Mac, it shows a funny error "Remote Desktop Connection cannot verify the identity of the computer that you want to connect to.".
I double check that i've already allow remote desktop connection and have the firewall allow RDP connection at my Window 8.1 desktop, but no luck. it still shows the same error. After doing some "google", i manage to find the solution!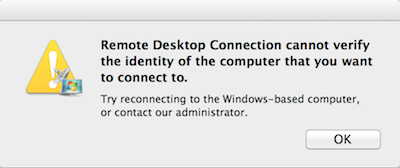 To allow remote desktop connection from Mac to Win 8.1, follow the steps below:-
Right Click on Start button -> select "Command Prompt" then type gpedit.msc and press enter
Now "Local Group Policy Editor" window will appear, at the left panel look for "Computer Configuration -> Administrative Templates -> Window Components -> Remote Desktop Services -> Remote Desktop Session Host and select "Security"

Double click on "Require use of specific security layer for remote desktop (RDP) connection" at the right panel, and set it to "Enabled" and select "RDP" in the Options pane and click "OK".

And also change "Require user authentication for remote connections by using Network Level Authentication" to "Disabled."
Now close your Local Group Policy Editor, and try to connect using your Mac. If it still showing the same error. Do a restart at your Win 8.1 machine and everything will be fine.
---
Share this with your friends:-