Since i change to Mac OS X, i'm using Adium as my IM client. I'm not really used to Adium before i know you can actually enable the email notification for Yahoo Mail. Today, i get to know Adium has come with this email notification feature by default. Just that you need to enable this email notification feature.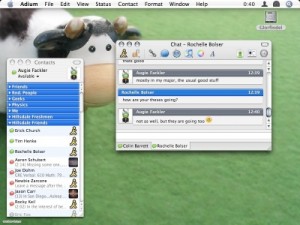 Adium IM Client
Just want to share with you guys, here is the steps to enable email notification in Adium:-

Start your Adium
Click on Adium -> Preference -> Account tab -> select your account and click "Edit" at the bottom right
Click on Options tab, make sure you check the "Check for new mail" and close all the window.

Restart your Adium now, you will see the email notification if you have new mail
Hope you enjoy this email notification feature!
[tags]adium, adium email notification, adium settings[/tags]
---
Share this with your friends:-