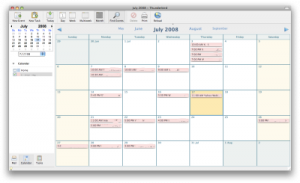 Dedicated to those who want to add Calendar in Thunderbird. If u r running Thunderbird and want to have an integrated Calendar system like Ms Outlook, then Lightning Calendar is the solution. You can add Lightning Calendar module to Thunderbird and the steps is just easy.
Below is the step to add Lightning Calendar to Thunderbird:-

Download Lightning Calendar module from Thunderbird Add-ons homepage
Once download, start your Thunderbird -> Tools -> Add Ons
Under Extensions Click "Install" button and look for the lightning calendar module you just downloaded.
Wait for the count down, and click "Install"
Now restart your Thunderbird
Done, you have just add Lightning calendar to Thunderbird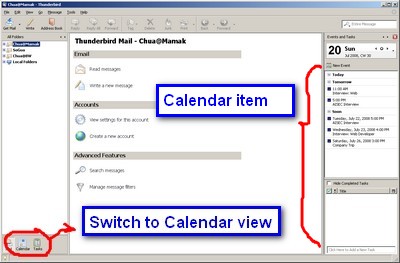 Originally, Lightning calendar is ported from Sunbird Calendar as a add-on for Thunderbird. The primary goal of Lightning is to provide a pleasant and productive user experience for both email and calendaring tasks, largely independent of specific competitors' product plans (from Mozila Wiki).
The best part about Lightning Calendar is, it's able to sync your calendar with Google Calendar (with third party add-on support). I'm going to teach u how to sync your Lightning Calendar with Google Calendar in the coming post. Stay tuned.
---
Share this with your friends:-